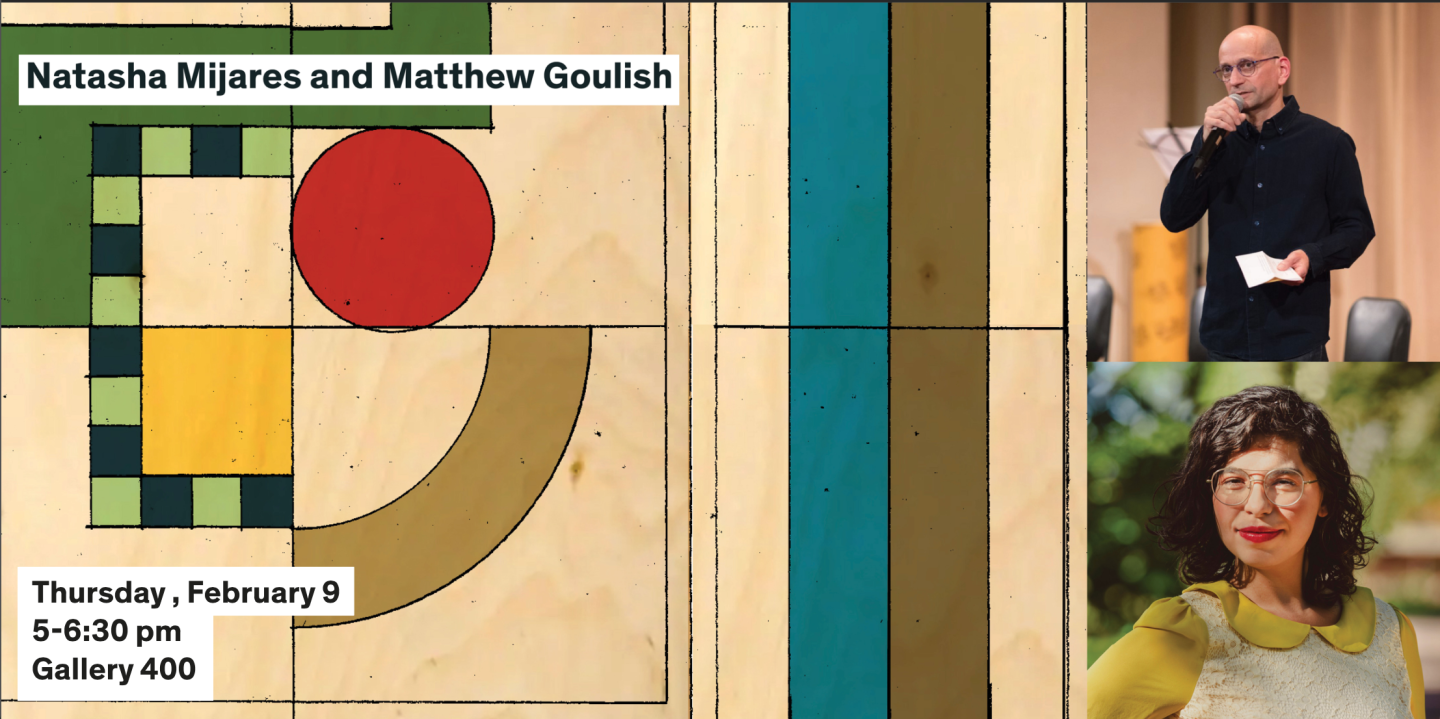 Date
Time
Location
Address
400 S Peoria St, Chicago, IL 60607
ABOUT THE EVENT
Join Gallery 400, poet Natasha Mijares, and Reckless Rolodex co-curator Matthew Goulish for an evening of performance inspired by Lawrence Steger's legacy.
Mijares, a Chicago-based artist, writer, curator, and educator, will give a reading of her work Sound Audition, which follows the musings of a speaker attempting to write a song. The speaker questions the implications of composition and how language fails us, ultimately considering issues of illness and wellness. 
Goulish, co-founder of performance group Every house has a door, will present A User's Guide to Reckless Rolodex. A User's Guide to Reckless Rolodex will engage the ideas and images in Steger's work, formulating Reckless Rolodex's creative responses to Steger. This presentation asks us to consider how Steger's work might offer guides for a new generation of artists? What does the word 'archive' mean and what might we ask it to do?
ABOUT:
Natasha Mijares is an artist, writer, curator, and educator. Her debut collection of poetry, violent wave, is forthcoming. She received her MFA in Writing from The School of the Art Institute of Chicago. She has exhibited at various international and national galleries. Her work has appeared in Gravity of the Thing, Hypertext Review, Calamity, Vinyl Poetry, and more. 
Matthew Goulish co-founded Every house has a door in 2008 with director Lin Hixson. He is a dramaturg, writer, and sometimes performer for the company. His books include 39 microlectures – in proximity of performance (Routledge, 2001), The Brightest Thing in the World – 3 Lectures from the Institute of Failure (Green Lantern Press, 2012), and Pitch and Revelation—Reconfigurations of Reading, Poetry, and Philosophy through the Work of Jay Wright, co-authored with Will Daddario (Punctum Books, 2022). He teaches in the Writing Program of The School of the Art Institute of Chicago.
ACCESS INFORMATION: This program is free and CART captioning will be available. For questions and access accommodations, email gallery400engagement@gmail.com.