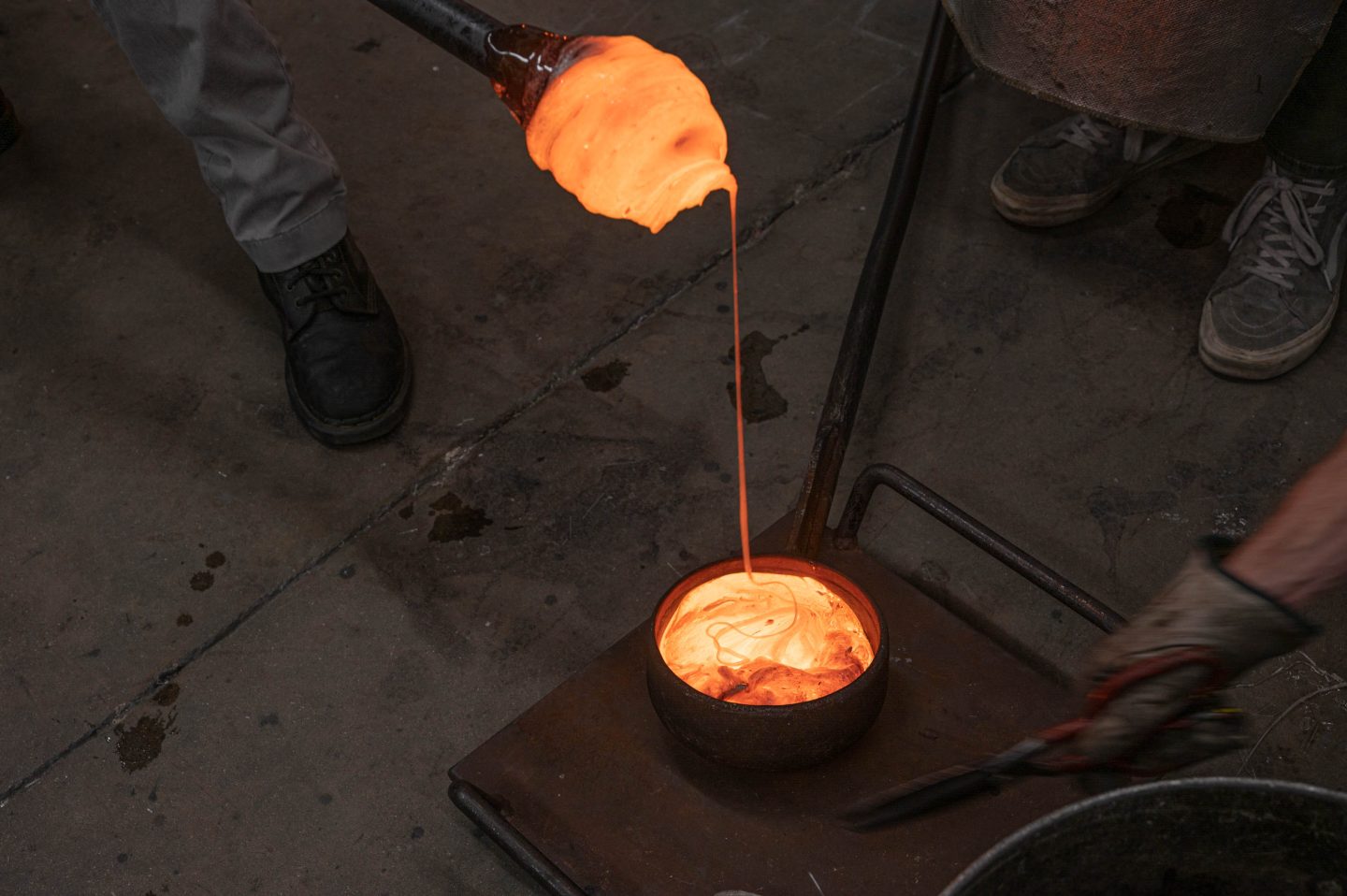 Date
Time
Location
ABOUT THE EVENT
Join Gallery 400 staff, Jaira Harrington, UIC Assistant Professor in Black Studies, and Yaz (Yasmine) Dukan, Assistant Director for Civic Engagement at UIC's Gender and Sexuality Center for a tour of Gravity Pleasure Switchback. The tour centers the entangled relationships of rest and labor as expressed in artist Derrick Woods Morrow's work alongside our own lives. Harrington and our staff each respond to a specific artwork from the exhibition, drawing from their own practice to activate the space and imagine possibilities for respite in the never-ending hustle of modern life.
The first major solo exhibition of Derrick Woods-Morrow, Gravity Pleasure Switchback manifests itself as a euphoric dream state containing the phases and spaces inhabited by Black American Southerners. Woods-Morrow engages everyday materials to accentuate the vast shine, grit, and tangible labor being performed in private domesticity. Wavering between life and death, rest and the hustle of everyday life, the exhibition is grounded in the exploration of the body as a place of boundless possibility.
ABOUT
Dr. Jaira J. Harrington (she/her/hers) is an Assistant Professor of Black Studies at the University of Illinois Chicago. Prior to this faculty position, Dr. Harrington served as a 2017-18 William J. Fulbright Postdoctoral Scholar in Brazil. Dr. Harrington earned her doctorate in Political Science in the subfield of Comparative Politics at the University of Chicago. Her current research and writing focuses on the union organizing of domestic workers in unions in Brasília, São Paulo, and Salvador.
Yasmine "Yaz" Dukan (She/Her/Hers) is an Afro- Egyptian Black Arab Trans Woman, spoken word poet, activist, and tiny house lover based in Chicago. She has organized and co-created programming in different QTBIPOC and SWANA (South West Asian North Africa) at UIC and Chicago over the past 4 years. She has a bachelor's in Women's and Gender Studies from Sonoma State University and a Master's in Urban Planning and Policy from the University of Illinois at Chicago. She is interested in QTBIPOC in relation to the built environment and how we can connect oral histories and systems that center our communities. In her free time, she loves sitting by a body of water, writing, hanging, and sharing memes with friends!
ACCESS INFORMATION: This program is free and open to the public. For questions and access accommodations, email gallery400engagement@gmail.com.