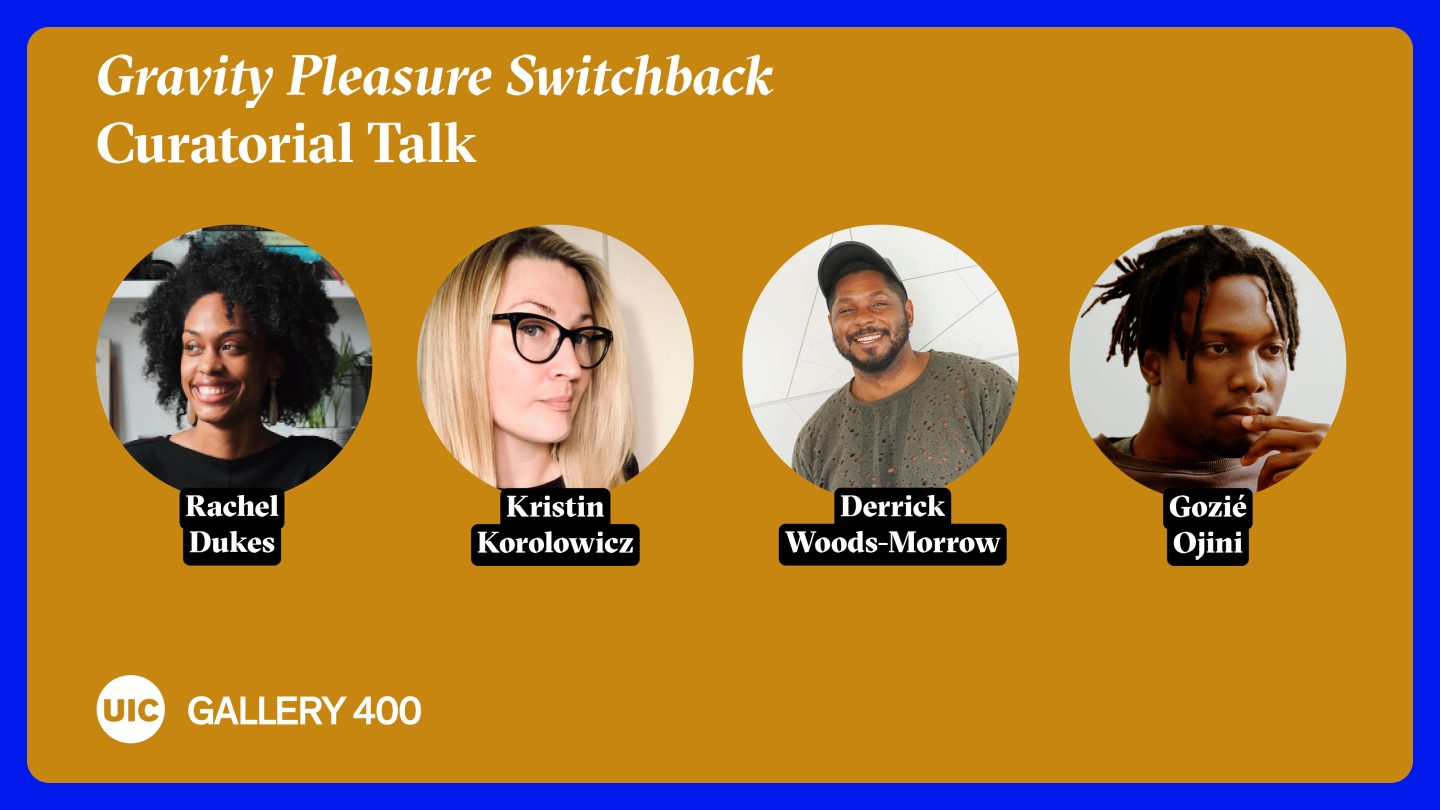 Date
Time
Location
ABOUT THE EVENT
Join exhibiting artist Derrick Woods-Morrow, collaborators Gozie Ojini and Kristin Korolowicz, and Gallery 400's Curatorial Assistant Rachel Dukes for a conversation centered on Woods-Morrow's exhibition Gravity Pleasure Switchback and Ojini's upcoming performance Currents. The four discuss labor and rest as expressed across their interdependent efforts between art-making and exhibition-making.
ABOUT
Originally from Greensboro, North Carolina, Derrick Woods-Morrow's work reflects on his experience growing up in the Black American South and centers on the exploration of Black sexuality and the complex journey through this discovery. Woods-Morrow's practice spans photography, film, installation, performance, and sculpture to capture and illustrate the queering of Blackness and the spaces in which this takes place. His work has been exhibited at the Whitney Museum of American Art, New York; the Museum of Contemporary Art Chicago; the Museum of Modern Art; the Museum of Contemporary Art, Los Angeles, among others. He has completed residencies at Skowhegan School of Painting and Sculpture (2022), The Bemis Center for Contemporary Art (2021), Antenna Works (2020/21), Chicago Artists Coalition (2018), the Fire Island Artist Residency (2016) and ACRE (2015). Woods-Morrow holds a Schiller Family Assistant Professorship in Race in Art and Design and teaches sculpture, painting, and textiles at the Rhode Island School of Design.
Gozié Ojini is an artist working primarily in sculpture and installation. His works employ careful gestures with found objects and readymades to explore ideas about disembodied labor, non-performance, and the alignment of object and subject. Ojini draws from his identity as a Black American, ethnographic studies of West African religious traditions, histories of forced migration through the Middle Passage, and object-oriented ontology to produce a wide range of assemblage-based works. He is currently based in Los Angeles and has recently been accepted to the Yale School of Art as a 2025 Sculpture MFA candidate.
Rachel Dukes is a first-year Museum and Exhibition Studies graduate student at the University of Illinois at Chicago. She holds a bachelor's degree in Accounting from the University of Arkansas with minors in Spanish and African and African American Studies. Rachel's work in arts administration and arts writing centers the history and culture of Black communities. She is passionate about anchoring her exploration of Black art and Black spaces in community and accessibility.
Kristin Korolowicz is an independent curator and writer. She has held curatorial positions at the Hirshhorn Museum and Sculpture Garden, The Bass, and the Museum of Contemporary Art Chicago. She earned her MA in Curatorial Practice from California College of the Arts. Over the course of her career, she has worked with an array of emerging to established artists, such as: Ghada Amer & Reza Farkhondeh, Roman Ondák, Mark Dion, Felipe Mujica & Johanna Unzueta, Laurent Grasso, José Lerma, Sanford Biggers, Chemi Rosado-Seijo, and Theaster Gates, among others. She recently curated the exhibition Prosthesis featuring the work of Fin Simonetti, Jillian Mayer and Martha Poggioli, which is on view at Haynes Court in Chicago until June 17. Korolowicz's forthcoming projects include curating Braiding Histories, the first major solo exhibition of Victoria Martínez's work, which will be on view at the Chicago Cultural Center in spring of 2024.
ACCESS INFORMATION: This program is free and CART captioning will be available. For questions and access accommodations, email gallery400engagement@gmail.com.