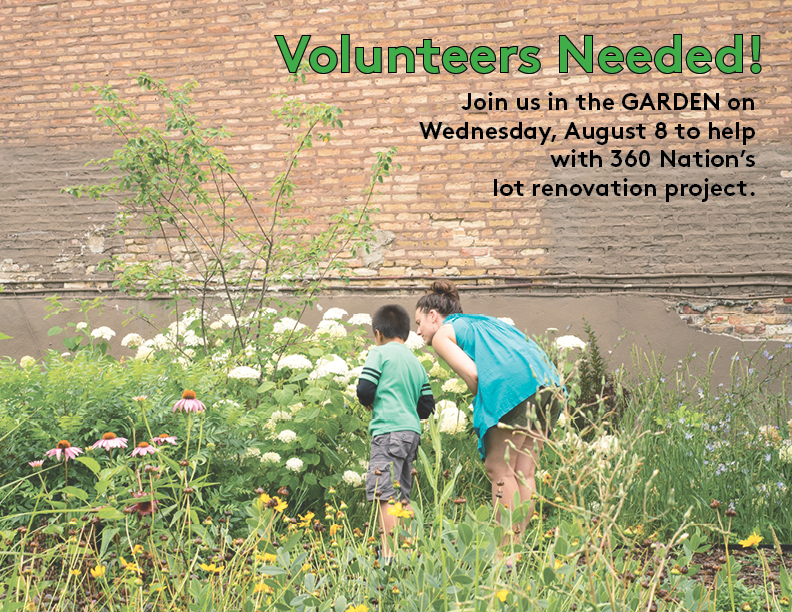 Date
Time
Location
Address
4320 W 5th Ave, Chicago, IL 60624
ABOUT THE EVENT
Garden for a Changing Climate is excited to partner with 360 Nation for the Freedom Camp Community Celebration. 360 Nation is a community organization based out of the West Side of Chicago that utilizes relationship building, gifts, and talents to promote self-determination in the Black community.
The final Garden for a Changing Climate summer event hosts the last day of 360 Nation's Freedom Camp—a six-week summer program for youth that focuses on health and wellness, trauma-informed restorative practices, and cultural education. The Freedom Camp Community Celebration invites visitors to work in the garden and prepare the land as a site of imaginative renewal.
Freedom Camp Community Celebration Activities
Youth DJ Sets: DJ Sadie Rock provides tunes and facilitates youth DJ sets with members of 360 Nation's Freedom Camp.
Black Bean Burger Demos: Sit around the table and learn to make healthy, delicious black bean burgers as a community.
Button Making: In celebration of 360 Nation's four values, participants create buttons with images connected to creativity, resilience, reflection, and hope.
Butterfly Seed-Bombing: Participants are invited to transform Chicago's gardens into hospitable areas for butterflies through the making of seed bombs—balls made of clay, soil, and seeds that can be tossed into gardens to grow plants.
Double Dutch Game: Black Girls Jump—an organization dedicated to preserving the art of double Dutch jump rope and utilizing childhood games as a fun form of fitness—will hold a double Dutch game from 2:30–3:30pm.
Vegetable Preservations Demo: Learn about the history and techniques of vegetable preservation in this pickling workshop. The cultural traditions and values of food preservation will be considered alongside the effects of preserved foods on the human body.
Volunteer Lot Renovation: This summer, 360 Nation took over three abandoned lots around the vicinity of their home at Charles Sumner Math & Science Community Academy. We are asking for volunteers to come and continue the transformation of these spaces into gardens, playgrounds, and any number of imaginative options. If available please bring rakes and/or compost.