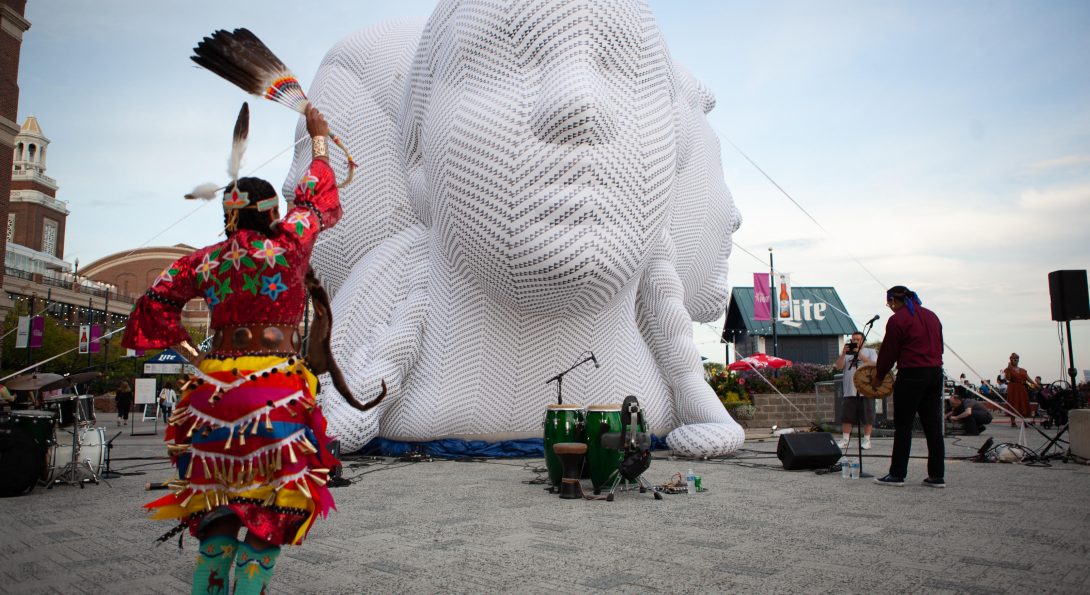 Date
Time
Location
UIC Latino Cultural Center
Address
Lecture Center B2, UIC Quad
ABOUT THE EVENT
Join co-director of The Floating Museum, Faheem Majeed, as he talks with Etzer Cantave and Starla Thompson about the Floating Museum project Founders and their participation in the project. A 25-foot-high inflatable sculpture, Founders  was created by the Floating Museum to honor the founders of Chicago, Jean Baptiste DuSable and Kitahawa. The sculpture is sited on the UIC campus the day of the conversation from 9:00am to 3:00pm.
Majeed, Cantave, and Thompson will discuss how Founders honors the French Haitian man and Potawatomi woman who created Chicago, as well as the aims of tthe larger 2019 project Cultural Transit Assembly of which Founders was a part. The multifaceted Cultural Transit Assembly celebrated indigenous and POC history in Chicago with performances and artworks on Green Line CTA trains and art installations in parks along the Green Line on the west and south sides.
Faheem Majeed is an artist, UIC MFA alumnus, and UIC Adjunct Associate Professor.
Etzer Cantave is board president of the Dusable Heritage Association and the Assistant Director of the office Sponsored Programs, Office of the Vice Chancellor for Research, and model for the face of DuSable on the Founders sculpture. Starla Thompson is a Forest County Potawatomi tribal member, the leadership development manager for Forest County Potawatomi Education, and a Potawatomi Jingle Dress Dancer.