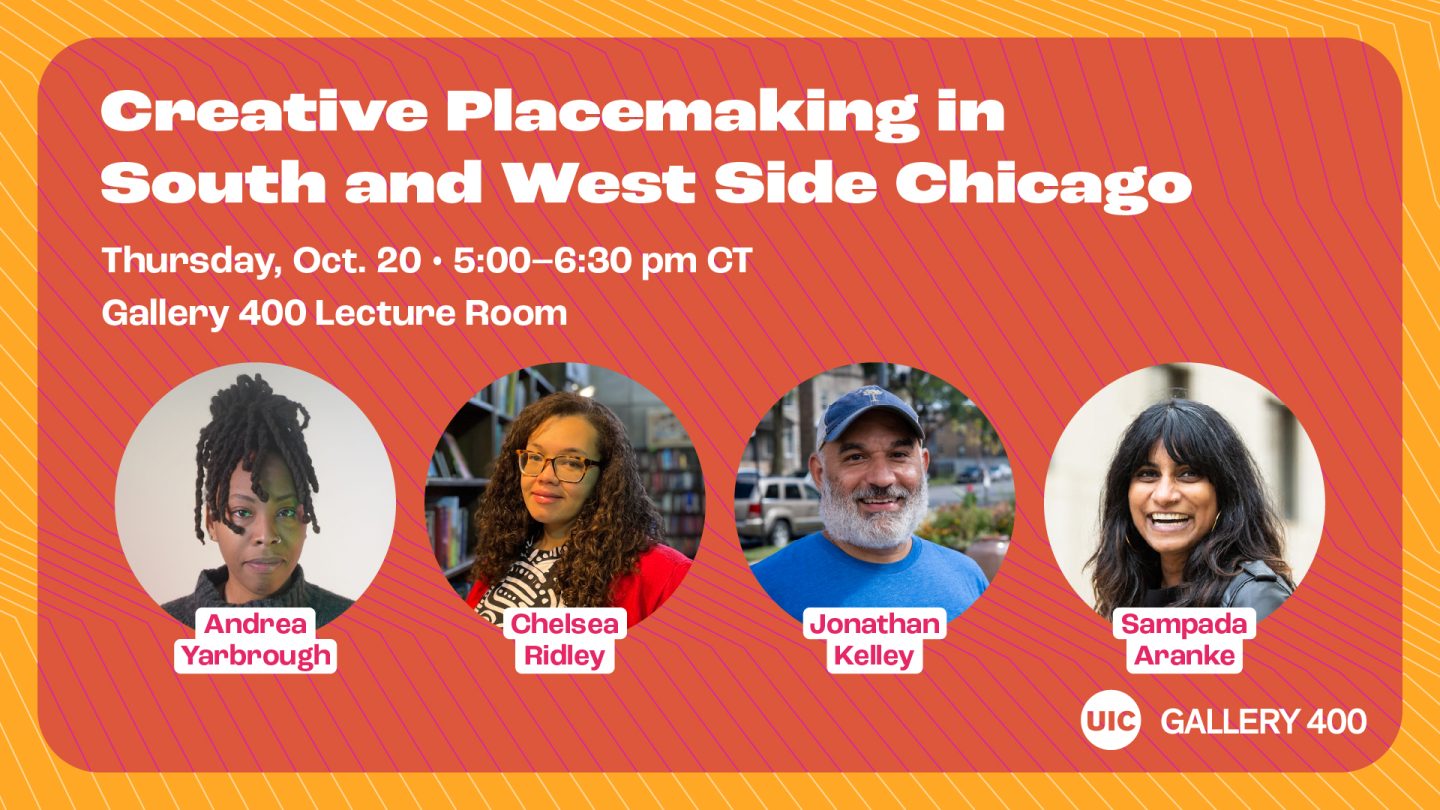 Date
Time
Location
Address
ABOUT THE EVENT
The creative and communal endeavors of Jonathan Kelley (MA 19) and Chelsea Ridley (MA 20), founders of the Lawndale Pop-Up Spot, and Andrea Yarbrough (MA 21), founder of In ℅: Black women (in care of Black women) coalesced during their graduate studies in the UIC Museum and Exhibition. 
In 2019, Kelley and Ridley formed the Lawndale Pop-Up Spot, a community-led museum housed in a freight container in the North Lawndale neighborhood. As an expanded definition of what a museum is and can be, the Lawndale Pop-Up Spot has partnered with West Side locals to produce exhibitions and programs highlighting emerging artists, racial justice, and cultural heritage.
Andrea Yarbrough's In c/o: Black women initiative creates sites of communal care by reclaiming vacant lots for food and creative cultivation in South Side Chicago. A central question to their mission is, what does it mean to build a site of care? The project has collected oral histories by Black women to historicize their relationships to care and also offers them woodworking workshops that produce "seatable objects".
Moderated by scholar Sampada Aranke, the conversation will touch on how sustaining creative activity within communities addresses issues related to racial equity and land ownership. 
ABOUT: 
Sampada Aranke (PhD, Performance Studies) is an Assistant Professor in the Art History, Theory, Criticism Department at the School of the Art Institute, Chicago. Her research interests include performance theories of embodiment, visual culture, and black cultural and aesthetic theory. Her work has been published in e-flux, Artforum, Art Journal, ASAP/J, and October. She has written catalogue essays for Sadie Barnette, Betye Saar, Rashid Johnson, Faith Ringgold, Kambui Olujimi, Sable Elyse Smith, and Zachary Fabri. She is the recipient of the 2021 Art Journal award for her article "Blackouts and Other Visual Escapes." Her book, Death's Futurity: The Visual Life of Black Power, will be published by Duke University Press in February 2023.
Jonathan Kelley is the co-founder of the Lawndale Pop-Up Spot. He has an undergraduate degree from Williams College and a Masters in Museum and Exhibition Studies from the University of Illinois at Chicago. He is a member of the Greening, Open Space, Water, Soil and Sustainability (GROWSS) committee of the North Lawndale Community Coordinating Council (NLCCC). Prior to his museum work, Jonathan worked in the community organizing world and in the anti-censorship world.
Chelsea Ridley currently has multiple roles in life as the co-founder of the Lawndale Pop-Up Spot, the Project Director for North Lawndale Reads at Open Books, and mother to one son.  Chelsea holds a bachelor's degree in History and Russian studies from Illinois Wesleyan University and a Master's Degree in Museum and Exhibition Studies from the University of Illinois at Chicago.  Her primary focus in work is community organizing around the cross section between arts, education, and positive youth development but she is also known to save cats here and there as well.
Andrea Yarbrough is a multi-disciplinary artist, curator and educator based on the South Side of Chicago nurturing sites of care through a blend of civic engagement and art praxis. Her praxis is embodied through the collaborative placekeeping initiative in c/o: (in care of), bringing together writers, curators, farmers, mamas, dancers, organizers, teachers, cultural producers, youth, and visual artists, to explore the intersections of urban ecology, art and land-use policy. 
Andrea's process transforms quotidian materials, slated for waste streams, into designed and utilitarian objects that serve as community resources, and incorporates the impact of solidarity and circular economies at the material, individual, and communal scales. By constructing functionally designed objects, cultivating land, archiving and documenting histories of Black women, and curating exhibitions and public programs, her socially-engaged practice exemplifies how communities can reclaim and reconstruct their surroundings while navigating agency and ownership over underutilized space.
ACCESS INFORMATION: This program is free and CART captioning will be available. For questions and access accommodations, email gallery400engagement@gmail.com.