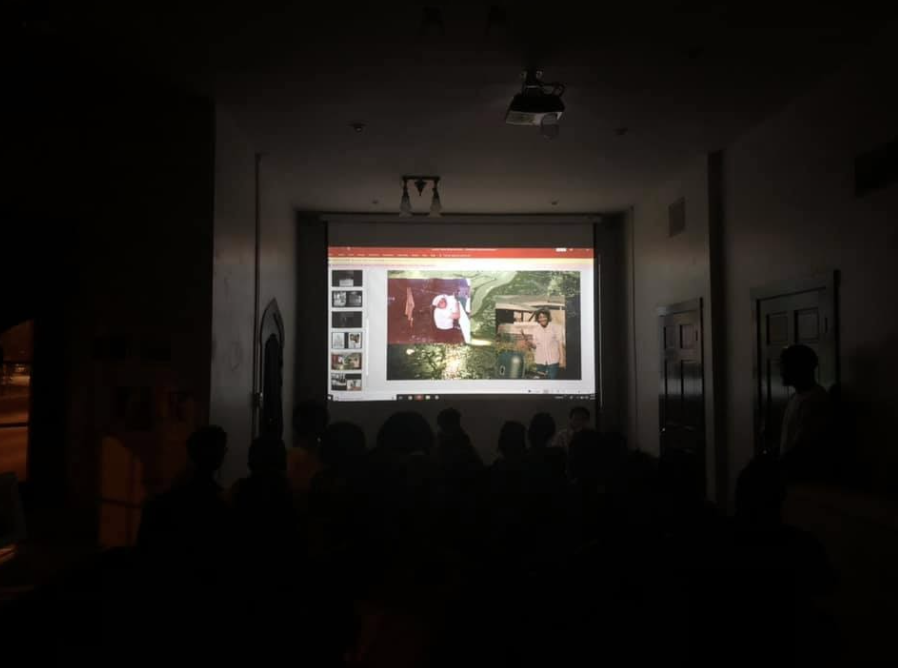 Date
Time
Location
ABOUT THE EVENT
Reserve tickets here.
Join us for a conversation between Chicago-based collective Concerned Black Image Makers (zakkiyyah najeebah dumas o'neal, L'Soft Williams, Jamillah Hinson), and collector Bernard Lumpkin. Moderated by Denny Mwaura, Gallery 400's Program Manager, this discussion will delve into nurturing a supportive ecosystem for black artists through patronage and collection initiatives. 
This program is free and closed captioning will be available. 
Bernard I. Lumpkin is a contemporary art collector, patron, and educator whose commitment to both emerging and established artists of African descent is part of a broader mission of institutional advocacy and support. Mr. Lumpkin currently sits on the Board of Trustees of the Studio Museum in Harlem and the Skowhegan School of Painting and Sculpture. At the Whitney Museum of American Art, Mr. Lumpkin serves on the Education Committee and on the Painting & Sculpture Committee. At the Museum of Modern Art, he serves on the Media & Performance Committee and is also the Vice-Chair of the Friends of Education patron group. Mr. Lumpkin has advised public and private organizations on collecting and patronage, and participated in discussion panels at art fairs, auction houses, and universities.  Mr. Lumpkin was educated at Harvard (A.M., Ph.D.) and Yale (B.A.), where he sits on the Dean's Council at the Yale School of Art. The Lumpkin-Boccuzzi Family Collection is the subject of a bestselling new book — "Young, Gifted and Black: A New Generation of Artists" (DAP) — and a nationwide traveling exhibition which is currently on view at the University of Illinois, Chicago. 
zakkiyyah najeebah dumas o'neal's work is most often initiated by personal and social histories related to family legacy, queerness, community making, and intimacy. O'neal's practice borrows from the visual traditions of social portraiture, video assemblage, collage, and found images, and seeks to reinforce a different kind of gaze (and gazing) enacted through empathy, desire, love, and longing. Within her projects there's an overlying theme of trying to make sense of what and who she belongs to. Ultimately, she intends for her work to reach spaces beyond representation—to imagine ways of being and feeling beyond the systems we inhabit. zakkiyyah has been included in numerous group exhibitions and has had several solo exhibitions at Mana Contemporary, Blanc Gallery, and South Bend Museum of Art. She has also curated exhibitions at spaces such as Chicago Art Department, Blanc gallery and Washington Park Arts Incubator at the University of Chicago. She recently held the 2019-20 Jackman Goldwasser Residency at the Hyde Park Art Center, Chicago and is currently an Artist in Residence at University of Chicago's Arts and Public Life. She is a Co-founder of CBIM (Concerned Black Image Makers): a collective driven project that prioritizes shared experiences and concerns by lens-based artists of the Black diaspora 
Jamillah Hinson is an independent curator and arts programmer. Hinson's work often delves into the everyday life of Black people across various cultures and ethnicities, examining and glamorizing often erased components of Blackness in the Americas and the Caribbean. With a focus on historical and contemporary Black mysticism and spirituality, her practice engages various methods of storytelling, examines traditions rooted in both terrestrial and cosmic spaces, and centers artistic and community narratives. 
Hinson has curated shows and developed programming with The Center for Afrofuturist Studies, LATITUDE Chicago, Intuit: The Center for Intuitive & Outsider Art, and the Chicago Artists Coalition, along with other arts and cultural spaces. She is currently a Curatorial Fellow at NXTHVN in New Haven, CT. 
L'Soft is a Blacklens-based creative and information scientist whose work studies the sacredness of one's image, interrogation and validation of identity, surrealism, the esoteric, and resistance – exercising a voice impelled by a deep curiosity and informed by an evolving spiritual-social consciousness. While producing art and programming through an ethnographic lens, L'Soft passionately curates fellowship amongst Black artists, thinkers, and action agents. Their praxis centers ethics-driven intent, conceptualization, and dissemination of Black imagery in the Diaspora's collective imagination. L'Soft is currently pursuing their Masters of Library and Information Science at the University of Illinois Urbana/Champaign.