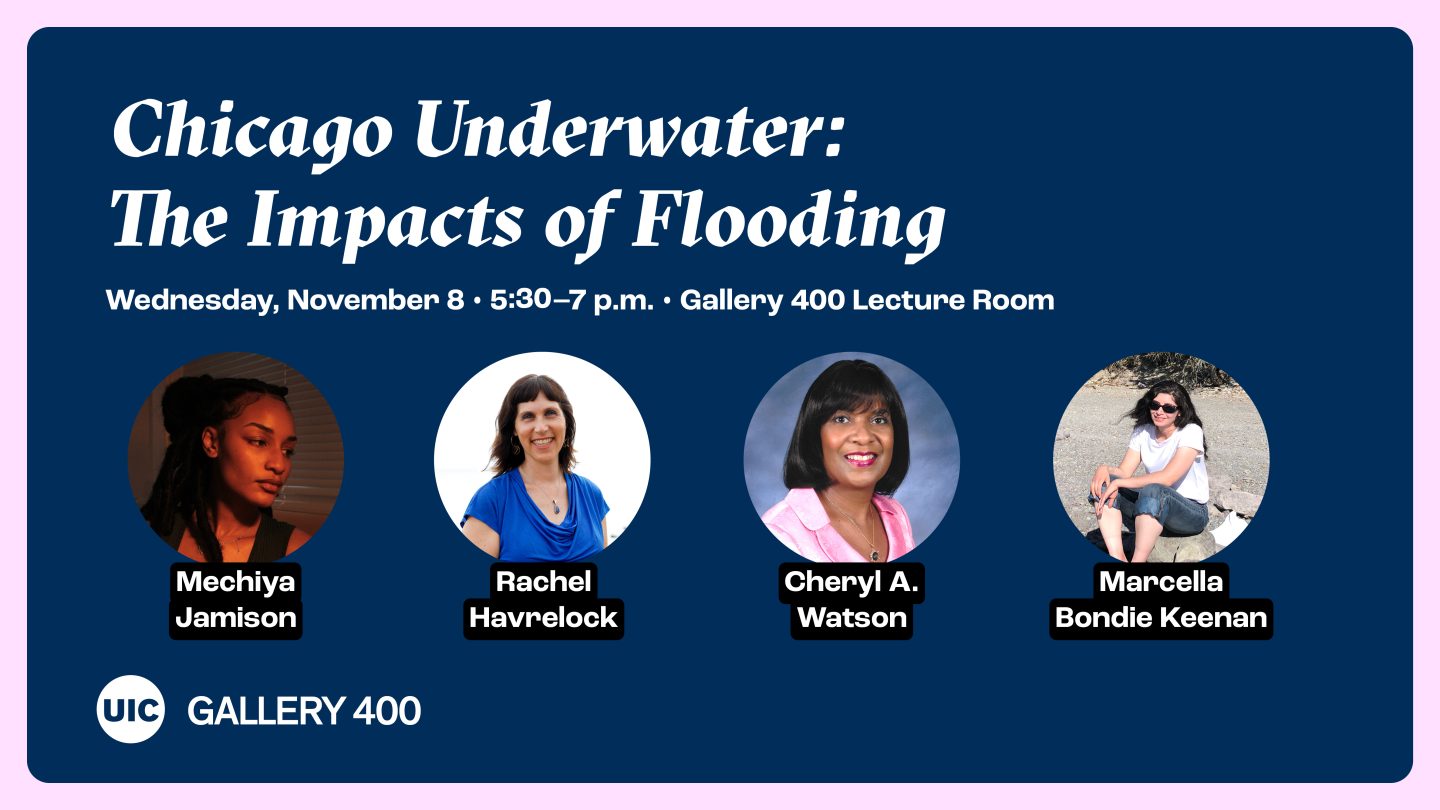 Date
Time
Location
Address
400 S Peoria St, Chicago, IL 60607
ABOUT THE EVENT
Heavy rainwater hit Chicago this summer, leading to unprecedented flooding—just one example of unusual and extreme weather underscoring the ongoing climate crisis. Not only does this flooding contribute to the housing crisis and water access with deadly results, its effect is often concentrated in historically-marginalized areas on the south and west sides. 
For this program, join policy-maker Marcella Bondie Keenan, local activist Cheryl Watson, environmental artist Mechiya Jamison, and Freshwater Lab founder Rachel Havrelock as they address rampant flooding and sustainable solutions.
ABOUT
Mechiya Jamison is an Environmental Artist, Storyteller and Curator. She attended the University of Illinois at Chicago where she studied Urban Studies and Public Policy through an environmental lens. During her studies, she was molded by the campus cultural centers and the grass roots community organizations she worked alongside. She has dedicated her being to cultural-environmental justice and liberation, choosing art as the tool to build solidarity, cultural understanding, and a means of collective power and consciousness. A means to an End. Professionally, these means have manifested in a way that mirrors the vastness of freedom and the natural environment. She is the Storyteller and Communications Manager for the Environmental Leadership Program and the independent curator and creator of interactive, educational exhibits Moving Freely and Wishing Well. She is also a Roger Arliner Young (RAY) Fellow, an ELP Great Lakes Regional Fellow, served as Special Projects Manager and In-house Creative for Equiticity, a WILD YAMS 2023 Artist-in-residence, and a contributing Mobile Artist to the city-wide plan We Will Chicago.
Rachel Havrelock is a Great Lakes enthusiast and open water swimmer.  She is a professor at the University of Illinois Chicago (UIC), where she directs the  Freshwater Lab. The Freshwater Lab generates research and policy on transboundary water systems and climate change adaptation; trains a new generation of water leaders; and creates public-facing media like the Freshwater Stories and Backward River digital platforms.  Rachel grew up on the Great Lakes, received a B.A. from the University of California Santa Cruz, and earned her PhD at the University of California Berkeley.  Her initial research focused on the Middle East where she learned the art of environmental peacebuilding from the NGO Ecopeace Middle East.  Following a fellowship with the U.S. State Department,  Rachel brought together mayors from cities around the Great Lakes and the Jordan River Valley to share best practices and sign a Sister Waters Agreement.  She has worked with elected officials and community leaders to promote access and water justice across these regions.  An active scholar and voice in the media, Rachel's current research considers water recycling as a solution to depleted watersheds.

Cheryl A. Watson is a Black Intersectional Environmentalist and thought leader focused on achieving climate, water, and energy justice, elevating historically excluded community voices, and approaching policymaking and activism through an equity, inclusion, and restorative justice lens. She is a Chicago native and Child of the Chatham neighborhood on the southside. The pervasive sewer backup and flooding following heavy rain events led her to complete the Chicago Conservation Corps training. She began raising awareness in the community about why and how it floods. Now she advocates at the local, state, and federal levels for equitable and urgent solutions to environmental burdens resulting from decades of disinvestment in the communities of the most vulnerable and least responsible demographics.
Cheryl holds a Biology/Pre-Med Bachelor of Arts from Northwestern University and a Masters in Computer Science/Telecommunication Systems from DePaul University. She worked as a Computer Applications Programmer and Senior Project Manager in the business and telecom sector for 20 years. Answering the call for science teachers, Cheryl completed her Instructional Leadership Masters in Education at the University of Illinois at Chicago, teaching youth the importance of protecting the Earth. She also served as an Illinois Institute of Technology High School Instructional Science Coach for high school teachers, developing an advanced science curriculum for schools located in disadvantaged communities.
Marcella Bondie Keenan is an environmental scientist, urban planning, and policy professional based in the Chicago area focused on environmental justice, climate mitigation and adaptation, and nature-based solutions. They are passionate about inclusive planning and policy design that advances community voice and ownership.
ACCESS INFORMATION: This program is free and open to the public. For questions and access accommodations, email gallery400engagement@gmail.com.