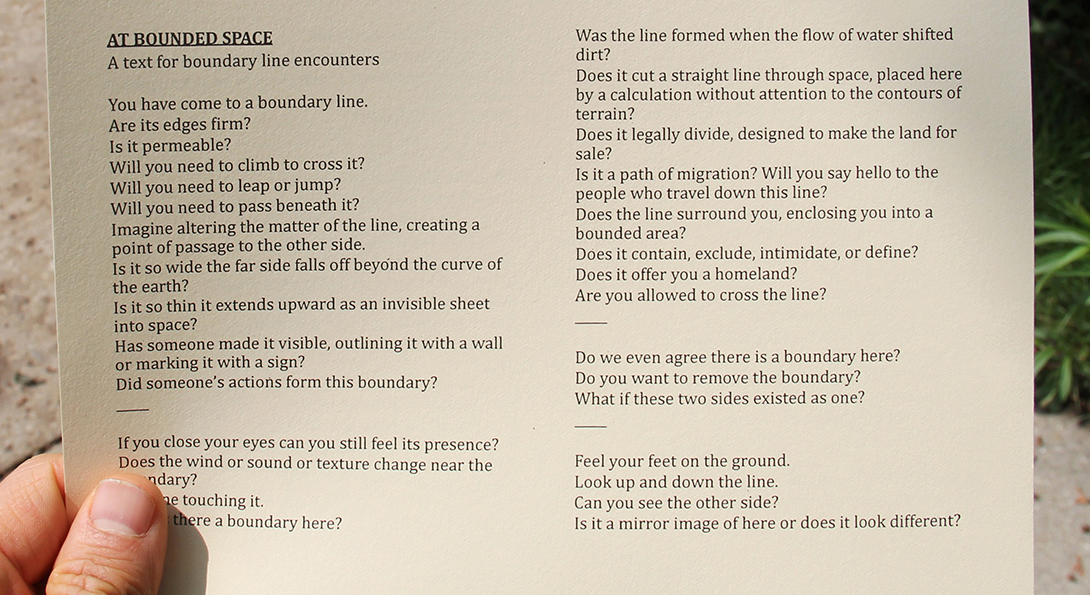 Date
Time
Location
Address
400 S. Peoria Street
Chicago, IL 60607
ABOUT THE EVENT
You have come to a boundary line.
Are its edges firm?
Is it permeable?
Does it contain, exclude, intimidate, or define?
Do we agree there is a boundary here?
Led by artist Hui-min Tsen, At Bounded Space is a guided walk through the transitional areas surrounding Gallery 400. The walk offers participants a universal method for encountering the many visible and invisible boundary lines surrounding us in our everyday lived experiences.
The duration of the walk is approximately 45 minutes. It is free and open to all.
This program is presented in conjunction with the exhibition Alberto Aguilar moves on human scale, on view April 26 – June 15 at Gallery 400.
Hui-min Tsen is a photo-based, interdisciplinary artist whose work contemplates the spatial and mental landscapes residing in the gap between Here and There. In projects ranging from walking tours to boat building to works on paper, she uses research and observation to interweave stories of history and the collective imagination with our everyday experience of place and the unknown. Tsen received a BFA from the Tisch School of the Arts at NYU, and an MFA from School of the Art Institute of Chicago. She has exhibited and published with the Hyde Park Art Center, Chicago Artist's Coalition, MDW Fair, and Sector 2337, among others. Her book, The Pedway of Today was published by Green Lantern Press in 2013. She currently teaches at Loyola University. 
Alberto Aguilar's first large scale survey explores how the Chicago-born and based artist's various life roles and surroundings have shaped a searching, inquisitive practice that is grounded in, and produces, a radical everyday. Aguilar's creative work often incorporates whatever materials he has at hand and has extended into collaborations and exchanges with others, including his own family. Navigating measurement and limits, of his own body or in his ready materials—whether it's the structure of a sheet of mini legal paper or the territory of an area rug, to name a few examples—his work bridges media, from painting and sculpture to video, installation, performance, and sound as well as the use of social media and teaching as art forms.