written by Nora James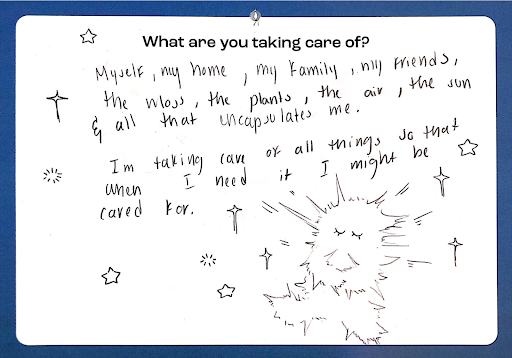 It's a strange time to focus on care. After two years of trying to care deeply for those around me—both for my friends and family and strangers—I feel worn out. Many people in Chicago are celebrating a return to normal, which in some ways feels like a loss of the care structures we developed: what about the people who can't return to normal?
At the beginning of the pandemic, there was a moment when it felt like there was potential for real change in the ways we care for each other. A friend told me that they hoped the feeling that Chicago was in this together would last. For some, the urgency of community care dwindled after restrictions were lifted, but in many ways, the pandemic cast light on how our city cares for each other and how care has been neglected.
At Gallery 400, we wanted to explore how the idea of care has changed since March 2020: the artists in For Each Other, consider care in Chicago and within our UIC community. As a part of the exhibition, we created a response space where UIC students could answer five questions and over the course of the semester, we've received dozens of responses.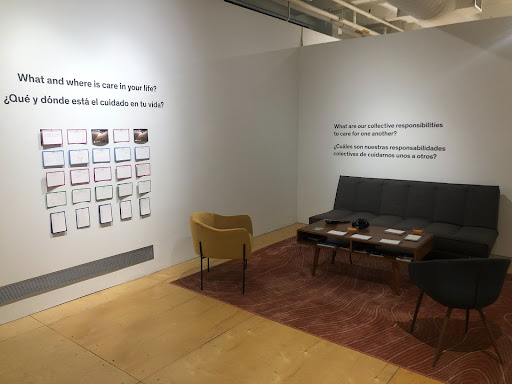 What are you taking care of?
What are you taking care of? Many of the responses to this question featured a redirection inwards. Artist Latham Zearfoss' installation, Grant Us Serenity, is a space for taking care of oneself. "At the moment I'm taking care of myself, which might sound selfish," reads one response, "but as the youngest in my family and the only son, I have a lot of responsibility now and in the future. I know if I "fail" my family will too."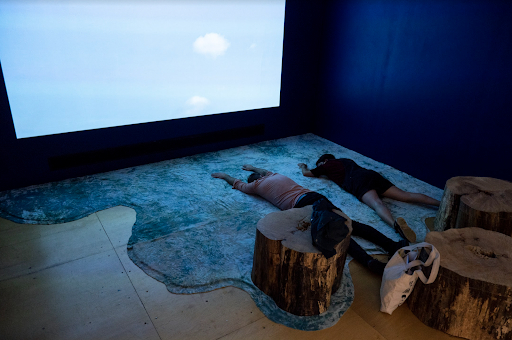 Lying on the carpet in Grant Us Serenity, listening to the reverberating background noise and staring idly at a screen full of blue clouds, feels selfish too. But I'm trying to intentionally consider my well-being along with everything else. Taking a minute to sit still is the least I can do.
"What are you taking care of?" reframes our expectations—instead of "How are you?" it asks us to consider what's occupying our thoughts, hopes, and worries.
What are you taking care of?
How will I show up for my community?
The Love Fridge Chicago has been showing up for their community since 2020 by increasing food access across Chicago. A mutual aid organization, Love Fridge places refrigerators and pantries stocked with meals donated by local chefs and restaurants in Chicago neighborhoods. What does it mean to include a mutual aid organization in an art exhibition? Can serving your community be a form of art? I like to think so. Caring for each other provides light and meaning in the same way that art can.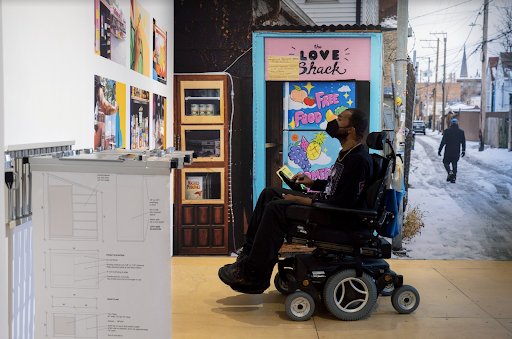 Visitors to For Each Other are showing up for their community in a multitude of ways. Some responses talk about listening to what others need before assuming, while other visitors are inspired to look for organizations doing good in their neighborhoods. Sometimes it feels like the word community is overused to the point of abstraction, but these responses remind us that we can care for our communities in concrete and meaningful ways.
If you're interested in showing up for your Chicago community by volunteering with Love Fridge Chicago, check out their website here: ​​https://www.thelovefridge.com/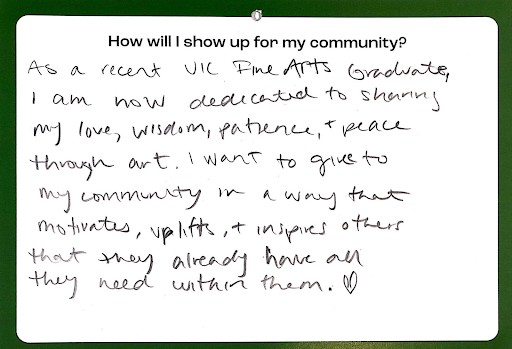 At UIC, I imagine care should look like:
Real Fake Artists, Inc. is a collective that began in a class at UIC. Artists Jon Aldrich, Eric Perez, Edith Mendez, Jessa Mendiola, Nydia Mendiola, and Angelica Mendoza identified a lack of care in UIC's Art and Exhibition Hall, which lacks a student lounge. The Stuff is Fake but the Need is Real imagines what a lounge could look like through flat cardboard furniture, painted brightly. Although a small seating area in the basement has been created since the sculpture was first created, Real Fake Artists, Inc. envisions a student lounge made with intention and care.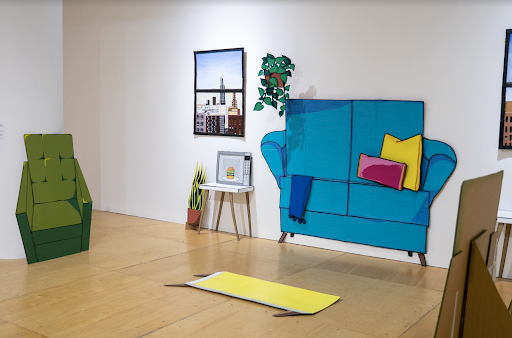 "At UIC I imagine care should look like…" As the first fully in-person semester since 2019 draws to a close, can we imagine new ways of caring for each other at UIC? What structures of care did the UIC community build while we were learning remotely and how can we take these with us as we move back into the classroom? Responses picture a learning environment where we consider each other's needs above academics.
Carving out spaces for care is crucial. At such a large university, it is easy to feel lost in the hustle and drive. If you are a UIC art student, consider taking Real Fake Artists Inc.'s survey about creating a lounge in the building here.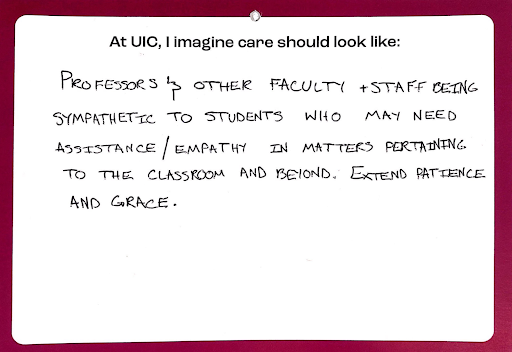 In my life, a fulfilling instance of community care was…
Artists Liz McCarthy, Lan Tuazon, and their collaborators have been making bowls to help their community. For three years, McCarthy and Tuazon have organized an Empty Bowls fundraiser, a grassroots tradition in which ceramicists create bowls for sale and donate the proceeds to local mutual aid organizations. This November, McCarthy, Tuazon, and the Gallery held a fundraiser with free soup donated by Chicago chefs.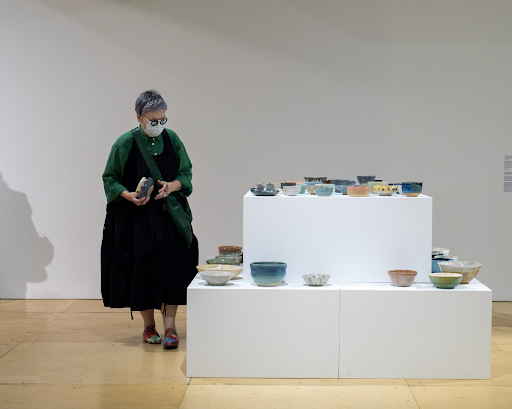 Instances of community care can multiply. Responses to this question demonstrate that when you've experienced an act of care, it feels more possible to think about others in the same way. Watching visitors to the gallery buy bowls for themselves and loved ones all semester, I've been thinking of stewardship as a form of care. We invest in our communities, and they are there to help us in turn.
If you are interested in purchasing a bowl as a part of the Empty Bowls fundraiser, stop by the Gallery by December 17th or call us to arrange a remote shopping appointment.
How has the concept of care shifted for you over the last 2-1/2 years due to COVID-19?
Kennedy Healy's and Marley Molkentin's series Care highlights some crucial changes the pandemic brought to their lives. In 2020, Kennedy, who is disabled, hired Marley as a part of her care team. These jobs are organized through the state government and include strict restrictions and expectations for what caregivers are and are not allowed to do. COVID heightened Kennedy's health risk. If one of her care team was sick they could potentially get the rest of the team sick as well, endangering Kennedy's care.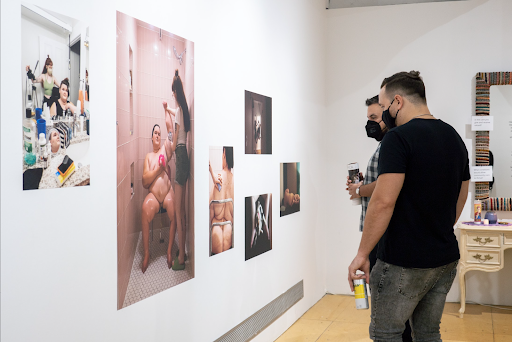 Inspired by conversations with Marley about her photojournalism degree, Kennedy suggested that they take a series of photographs together documenting their relationship. These photographs show a beautiful interdependency of care. You can tell that Marley and Kennedy are not just in a professional relationship, dictated by the rules of the Illinois personal assistant system, but also care for each other on a personal level.
"How has the concept of care shifted for you over the last 2 1/2 years due to COVID-19?" This is the big question, the one that started our thinking about care in the first place. There's no straight answer. Many people responded that they consider their own and others' mental health in a way they hadn't previously. Others shared that they have come away from the pandemic feeling apathetic and disconnected by the ways we could have committed to change but didn't. Some people expressed a mixture of hope and sadness.
As For Each Other winds down, I'm reflecting on how my personal concept of care has shifted, not just since March 2020, but since the beginning of the semester. The exhibition, and the responses we've received, are a vital reminder to take a moment and lean into the softness of caring, for ourselves and for each other.