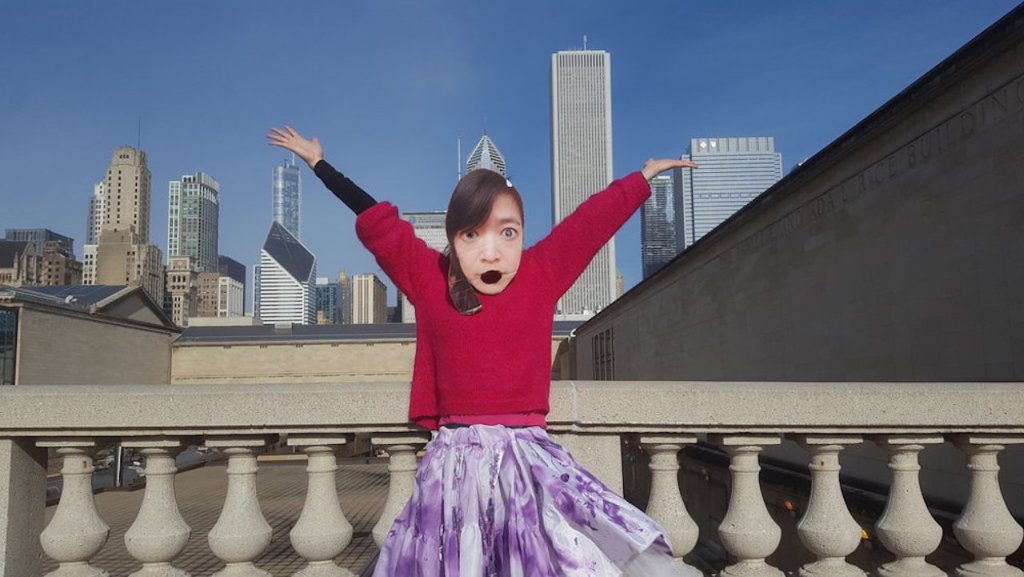 We would like to introduce our Community Engagement and Public Programs Manager, Li-Ming Hu. Li-Ming is originally from Aotearoa/New Zealand and came to Chicago to undertake an MFA in Studio (Performance) at the School of the Art Institute of Chicago. She has an extensive background in communications and public programs, most recently at the NZ Human Rights Commission and the Museum of Transport & Technology (Auckland, NZ). She also currently works as an editorial assistant for Soberscove Press and as an educator for Evanston Art Center. She has shown and performed at a number of spaces throughout Chicago including Compound Yellow, Mana Contemporary, Links Hall and Co-Prosperity Sphere and held residencies at the Wassaic Project and the Skowhegan School of Painting and Sculpture. Li-Ming works with video, objects, installations, and performances, often using pop culture as a critical lens. Her recent work has explored art world anxiety, the pressure to perform, and the performance of subjectivities via cultural production.
Tell us a little about yourself and what brought you to making artwork?
I've always been interested in art but was afraid of committing to it for a long time due to the financial precarity and general insecurity. Funnily enough I ended up doing a stint of acting, which is as if not more precarious! After a time of doing day jobs and community art classes on the side, I decided the make the plunge and enroll in a full-time fine art program. Looking back I realized that some of the stuff I had been doing for fun (costume parties, refacing street posters and running my dog for mayor) could have been classified as art – it's all in the framing.
How did you begin working with pop music as material?
I started off making sculptures at art school, which pretty quickly began operating also as props, costumes and sets. It was a real aha moment for me when I added music to the mix. It's so evocative and brings so much other content that adds to the work, although I'm aware that it operates differently according to different generational and cultural contexts.
You describe your work as equal parts parody and tribute. How do these two themes connect for you?
Laughter is a really important part of my practice – not only as a valuable access point for audiences but also because of what it reveals about what we find funny. I'm interested in a carnivalesque, self-reflexive laughter. It's important to recognize my own implication in the structures and relationships I parody, that I'm laughing at myself as much as I'm laughing at anyone else. Mixed feelings are also a huge inspiration for what I do – exploring how attraction and repulsion can operate simultaneously.
How do you consider place, duration, and viewer interaction when working on an installation or performance?
The place and context of where a work is shown often plays a key part in how I develop a piece. The work Loverboy for example, was developed in response to an art prize I was asked to be part of. I created a narrative where I, in drag, attempt to seduce the judge (a local curator) to a Billy Ocean song, while the other contestants also vie for his attention. Fast Times at Zhou B was made in direct response to the Zhou B Art Center, where I knew I would be presenting my graduate piece, and the mixed feelings I had about the Center being both a self-promotional monument to its founders as well as a valuable community resource that made itself available to a genuinely diverse range of art practitioners.
Can you talk about your recent work, Fast Times at Zhou B, where you and team performed a cycle of three sections for three hours?
I'm more interested in the kinds of performances for a come and go audience, or that people might encounter almost incidentally, as opposed to those that have a clearly demarcated start and end time, static location and set audience. I wanted something that would suit a come and go format, and was keen to experiment with duration to see how the performance would shift through a kind of relentless repetition – a live loop. The biggest highlight for me finding out an actual Zhou brother was in the building the following week (when the piece had been installed as an exhibition) and getting him to come and see the piece. I told him what I big admirer I was, and if he could also see that I was making fun of him he was too polite to say.
How do you utilize persona, disco and pop music when confronting the issue of appropriation?
In these times, with thousands of years of history behind us and an ever proliferating saturation of media in our present, I think that appropriation is almost inevitable in any form of cultural production. Working with pop music over these years has meant not only working with the affect induced by a song, the lyrical and musical content, and the personae of those that wrote and performed it, but also the circumstances of its production, which in turn has led to a deeper examination of issues of cultural appropriation. While I have no desire to deny its existence (and its roots in colonialism), I also don't want to settle for a simple or reductive definition (which often turns too quickly of things one can and cannot do or talk about). I'm interested the layers, the temporal and geographic crossings, and when the lines can be drawn between borrowings, syncretism and theft.
Can you elaborate on your use of masks in your work?
I started making sculptures, and became as interested in my interactions with them as the objects themselves. I like to seem them as 'performing objects' so it was only a matter of time before I started approaching them as props and costumes. I was also really interested in the relationship between self and other, and the cardboard masks became a quick and dirty (but at times surprisingly effective) means of becoming someone else. The transformation never meant to be totally convincing though, as I like to work with the disjuncture between the body of the performer and the face being worn.
Can you talk about your recent work, Disco Reparation, in which you revisit the 1979 Disco Demolition event?
I found that one really challenging to make! One of the things that drew me to it was the different ways the story was, and continues to be told. You have this moment where 50,000 people converge at a White Sox game to blow up disco records, with some calling it out as a hate filled moment of homophobia and racism, and others maintaining it was just bunch of kids having fun. I was surprised by how passionately many locals I talked to defended that latter position. Although I lean more towards the former (even if it was largely unconscious for many), it was less about arguing a particular point of view than exploring how history is made and told, while hopefully bringing the story (and the band Chic!) to people that might not be familiar with it.
How does living and working in Chicago impact your work?
I came to the US hoping a dramatic change in context would give my practice a good shake up, which it kind of did. The cultural/historical context is very different here, and it has impacted me a lot to see how my work can be read differently according to what country I'm in.
How does working in a gallery with public programs impact your work?
I've always had an interest in the way audiences encounter artwork, and think public programs have fantastic potential to provide different access points for people. I see a symbiotic relationship between my public programs work and the more public facing parts of my art practice. There is a lot of skill overlap from the logistics of organizing an event to coming up with innovative ways to engage an audience