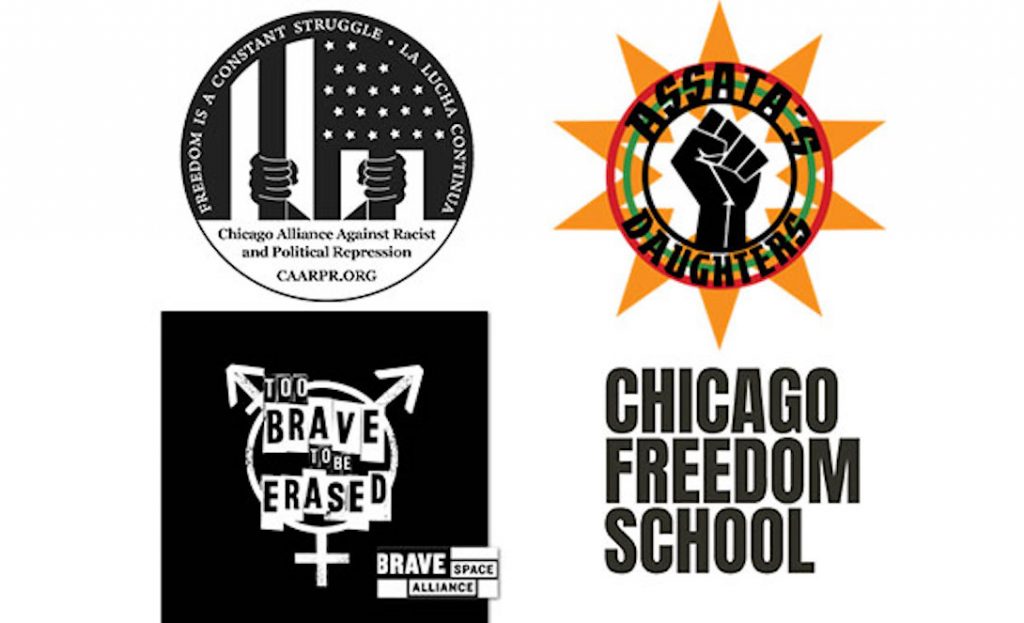 There are many organizations and individuals in Gallery 400's network creating anti-racism resources.
Here at UIC, the Institute for Research on Race and Public Policy has an ongoing State of Racial Justice in Chicago Project that "produces reports that provide a comprehensive picture of the inequities and changing conditions that racial and ethnic groups in Chicago face in the last half-century." In the last week, the OPEN SOURCE DIGITAL LITERACY: A BIBLIOGRAPHY has developed a google doc that outlines resources on "subjects within digital literacy and online safety for people of color (automated surveillance, algorithmic bias, social media/truth/conspiracy, doxxing, gaming, etc.)."
UIC Counseling Center's Responding to Racism Guide
In our Propeller Fund awardee circle, there are many organizations, affiliations, and groups working on alternatives to the police and ameliorations of the carceral state. Among them are:
Alternatives to Calling the Police During Mental Health Crises
Chicago Torture Justice Memorials
Prison Neighborhood Arts Project
For the People Artists Collective
Propeller Fund awardee Make Yourself Useful is an anti-racist organization for white people and is currently holding weekly workshops on protesting, undoing whiteness, and how to move from being an ally to be an accomplice. The Chicago ACT Collective supports many resistance movements with graphics and art production workshops. Lucky Pierre Free University – HOME SCHOOL is presenting weekly workshops, including recently Art and Abolition.
Sixty Inches From Center has compiled a set of resources to build knowledge and understanding of abolition and liberation movements, and community caretaking initiatives for Black and non-Black POC communities: Resources Toward Black Liberation.
Many Black-led organizations and groups have been leading the fight against police brutality and for Black lives. Here are some links to learn about, to support financially, and to get involved with these organizations.
In Chicago:
Chicago Alliance Against Racist & Political Repression
In Minneapolis:
Nationally:
The Trans Justice Funding Project
Internationally:
Pelo Malo – A Venezuelan film addressing racism and homophobia
••
This google doc created by Carlisa Johnson collects multiple ways to take action now:
Resources for Accountability and Actions for Black Lives
••
Resources from the Asian American Psychological Association:
Asian Americans Advancing Justice Tracking Hate Stories
National Asian Pacific American Bar Association (NAPABA) Hate Crimes Task Force and Pro Bono Legal Resources
Infographics and accompanying videos for helping AAPI families talk to children and teens exposed to anti-Asian bullying and harassment
Asian American Mental Health Collective directory of APISAA therapists
AAPA Division on Practice list of COVID-related mental health resources
Free bystander intervention training to stop anti-Asian/American and xenophobic harassment
Developing Anti-Racist Practices:
Working Document for Scaffolding Anti-Racism Resources
Being Anti-Racist from the National Museum of African American History and Culture
Anti-Racism Resources for White people
The Asian American Racial Justice Toolkit
Academics for Black Survival and Wellness
Free Online Courses on Race, Racism, and Racial Justice
100 Things White People Can Do For Racial Justice
Addressing Anti-Blackness Within the Vietnamese/Chinese & Asian Community
Non-Black Latinx Resources to Combat Anti-Blackness
Confronting Prejudice: How to Protect Yourself and Others (submitted by Mark Eisner of Pepperdine University)
Resources for White People to Learn and Talk About Race and Racism
Black Lives Matter, Aging Adults, & Senior Care (submitted by Joseph Kertis)
To learn more ways to interrupt and respond to Coronavirus racism

Asian Americans and Racial Justice: Historical Context Slides

Problematic Statements and Questions
Anti-Racism Resources to Support Asian-American, Pacific Islander Community
••
Raising anti-racist children
(submitted by Api Podder from inparentculture.com):
Resources for White Parents to Learn about Racism
12 Children's Books about Racism and Injustice
How to Talk to Kids about Race, Ages 3-8
Your Kids Aren't Too Young to Talk About Race
Young, Proud, and Sung-Jee: A Children's Book on Fighting Anti-Asian Racism During Covid-19

The Name Jar

A Different Pond

Lailah's Lunchbox: A Ramadan Story

They Called Us EnemyAmerican Born Chinese

Step Up to the Plate, Maria Singh
••
How Latinx People Can Fight Anti-Blackness in Our Own Culture from Teen Vogue
Search Engine for Black-Owned Businesses in Chicago
Semicolon Chicago – A Black woman-owned Bookstore
••
If you have ideas for actions, groups, or documents we can add to this list, please let us know at gallery400@uic.edu.
Last Updated 3/22/21 at 10:52 CDT.